Visitors
Attention Members of Creative Painters Club Receive Free Shipping on Orders of$25 or more!
Not a member? Click Here to Join.
Welcome to Silk 'n Things Web Site!

Jeanie will be teaching one class at the 2011 Creative Painting Convention. You can Register in July for Creative Painting 2011 Convention. The convention will be the last week of February 2011.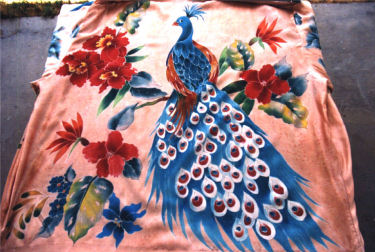 Click HERE or on the Calendar button to view her classes.
If you are interested in the art/craft of painting on silk, you will want to visit Silk 'n Things often. Learn to create a variety of decorative items using 100% silk. Paint decorative items such as pillows, wall hangings, quilts or table runners for your home or for gifts. Be the envy of all you friends when you wear beautiful, one of a kind, hand painted outfits, scarves and vests.
Any successful crafter or decorative artist can create silk paintings to be utilized in eye catching decorative items or quality one of a kind silk fashions. We are dedicated to helping everyone who wishes to learn the basic and advanced techniques of decorative painting on silk, and to providing you a source for silk painting supplies.
All designs are created using traditional Silk Dyes on 100%silk fabric. These dyes become a part of the fabric and do not mask the natural shine and feel (hand) of the silk. Don't wait! Enrich your life and start enjoying silk painting today. All my silk painging for Beginners books have detailed instructions and a variety of full size project patterns from basic beginning (Level1) to intermediate (level 2) and advanced (level 3).
Start this exciting and fun Hobby today!